A Week in the Life of Karen
Tuesday, September 3rd
5:50 am
I wake up because it is pouring outside and I sleep pretty close to a big window. Even though it is Tuesday, my schedule dictates it is more like a Monday. Labour Day was yesterday, and in the part of Ontario where I live, the first day of school is a PD Day today, which translates to a slight schedule shuffle in our house and we can all sleep in! Back to sleep for a bit.
7:16 am
Coffee is on, found my hoodie (I don't know why but it was six degrees last night, it's freezing, and I am not putting the heat on yet!) and slippers and I open my computer to start writing. I see there are some new Slacks (our virtual office messenger) to catch up on. Close Slack, back to this article.
7:23 am
It is easy to be distracted, and I have been having issues of losing focus the last couple of weeks. My rule of thumb when I start work each morning is that in the first two hours, there is no posting in Slack or using any social media. I try and use this time for things like writing, planning, or just being in my own space.
8:15 am
Tuesdays are usually one of my two planning or "focus days" where I work straight from morning until the end of the afternoon with no meetings or places to go but today is acting like a Monday because yesterday was a holiday. That means we have our Spring Monday meeting today and I usually work out before that meeting. Greg, my husband, is off work today (he made the coffee, one gold star for shift work) and he usually joins me for a workout. Kids (teenagers) are all still sleeping (of course!) so we get ready to go to the gym. A rapid change, check the WOD (workout of the day) online and fill water bottles.
9:44 am
Workout complete and we are back in the vehicle driving home. Greg is driving, which allows my brain to wander and think that because it is 11 degrees and pouring down rain, we should stop at Starbucks. Americano with lots of cinnamon on top x 2. Ahhh.
10:02 am
Back home. I meet my oldest son (2 months until he turns 16) when I enter the house. He's walking up the stairs with headphones in listening to music. "Mum, I'm cold!" Yes, it's a bit chilly, (downstairs is colder where they all sleep…) but I'm not turning the heat on. High of 13 today. "Have you eaten?" he replies, "No." I give him suggestions as I quickly open the dishwasher and start putting dishes away. He helps. "Warm up the croissants." No sign of the other teenage boy (14) or the girl (13). Dishwasher unloading should wake one up (it's directly over his head!), and the girl is usually asleep until we wake her up. That will be Greg's duty today. I have to get to my computer. I grab a Larabar to eat; they always save the day!
10:09 am
I change and get back on my laptop. I open Slack and officially check-in "at the office." I add my daily stand up to the appropriate channel so everyone can see what I am doing. I write and save all my daily stand-ups in my Slack channel on Friday or Sunday prior, whenever I am prepping for the week ahead. I recently booked this planning ahead time as a task in my calendar like an appointment with myself, so I do it more often on Friday rather than Sunday. Last Monday, my colleague Sandi was telling me how she forces, forces, forces herself on Friday afternoons to plan for her week ahead even though all she can think about is running for the fridge to get a cold beer and wrapping up her Friday afternoon. Planning on Friday afternoon does make for a more delightful Monday morning. When I prepare on Friday for the week ahead, I am not up at the crack of dawn worrying about what I need to do; instead, I can go to the gym. (I even have time for Starbucks! WIN.) I address a few emails that came in late Friday, even to thank people for their emails and let them know I will be getting back to them soon.
10:30 am
Every Monday morning, we have a Spring group call that includes sharing our three positive focuses for the week. It only takes 15 minutes, but everyone in the company fills out a google sheet with their top three goals of the week, what they learned about last week and what worked last week. After 15 minutes, the planners and para-planners move to a planning meeting. Indeed, time well spent, and it is nice speaking in real-time and hearing everyone's voices.
11:02 am
Meetings are over and finished a bit early. It was a great meeting as we covered a few how-to's in Naviplan, our leading planning software. I cut and paste Julia's suggestions to my OneNote book called NaviPlan. Great place to store information I will get back to when I am actually in Naviplan, but I won't be in there today. I head back into my emails and just double check I didn't miss anything. I wander out to retrieve my mouse from the charging station and say hello to teen number two and his friend! Oh yes, he had a friend sleepover last night, and they are making pancakes. I say hi and remind him he is on dinner meal prep tonight and he has to have it done before he heads to work at 5:00 pm. We make a date to meet back in the kitchen at 3:00 pm. I need to help him tonight as he has meat pie on the calendar, which means I have to make the pastry and he will make the filling. Greg is sitting in the kitchen too; I should mind my own business because he has got the kids, and he keeps them on track. Back to work for me. Grab an apple.
11:43 am
Close all my open tabs on my computer, especially email. My next calendar block says to complete homework pieces for two cash flow clients from last week. One client needs help prioritizing her family's goals. She was super cute last week during our meeting as she explained how it feels like she always has an angel and a devil on each shoulder. Sometimes she says no to her family when they want to spend money, and other times, she wants them to have everything all at once! My job is to show her that they can have most of what they want. We have to put all the "things" and their goals on a timeline that makes the most sense financially. They can have their cake and eat it too, but not all in the same month.
12:02 pm
Knock at the door. The girl is up. She has been in denial about getting out of bed. "But it's our last day mom." The drama drags on. She leaves to eat. I hear her stomach grumbling.
1:12 pm
Email out homework pieces to clients waiting from last week. Feels good. Email Jiveney from our awesome administrative team to ask her to set up the next meeting with one of my clients and text the second client to confirm their meeting on Thursday. Next up, I am starving. Quick lunch, start grilled cheese for oldest teenager. He is still listening to music. He is still in his PJs. He comes upstairs and finishes up cooking his grilled cheese and sits down as I get up. I am back to it, my next block for the day is to do prep planning for a financial plan due in two weeks or so. I am a bit behind as I am writing this article between my to-do list. I hope to get a solid two-hour planning block next. Wish me luck! On a positive note, everyone has left the house to run errands and ride bikes. "Hey Google, play Mumford and Sons in the ceiling speakers."
3:12 pm
Time to make dinner with teenager number two. I should have had him plan a dinner he could have made with his dad, who is off today. I finished two hours of plan prep, so I'm happy with that. On to meat pie! It's Will's favourite dinner. Glad he wants to know how to make it. He should buy pre-made pie crusts, come to think of it, so should I.
4:31 pm
Greg takes Will to work at Canadian Tire for 5:00 pm, and I have some time to write this article while the pie cooks. Will has to eat when he gets home at 9:00 pm. This year Greg and I spend much of our evening time these days trying to stay awake to pick up our teenagers from work.
4:36 pm
Check emails and Slacks. Not too busy for a Tuesday that is acting like a Monday. I open up TSheets (our time-tracking software) as I realize I haven't had my clock running all day. I enter my tasks or jobs and enter the times. I have a total of 5 hours and 53 minutes logged today. Pretty good. My average workday is usually just over 7 hours. Some workdays are fewer hours than others. Thursdays are my longest days with 10 hours of working time-slotted and Wednesdays are my shortest days with only five hours booked. One of my favourite parts of this job is creating my schedule. We all work different ways at different parts of the day and span over three different time zones. I love the flexibility to have shorter and longer days and blocks of time in the day for the gym or my kids. I have two evening work blocks in a week and a Saturday work block. They are mostly for client meetings, so if they don't book the week prior, I often fill them with other things or cancel them. My tracking in TSheets says I average just over 33 hours a week. My availability in my calendar is closer to 37 hours per week.
4:57 pm
Wrap up work for a bit as the girl is upstairs, so we snuggle on the couch under covers (it's still cold out, and it's still raining). Pre-dinner Simpsons episode while we wait for Greg to get home. Will set the table and did the waters, so we are good to go. Take the pie out of the oven. Yum. Oldest and youngest both complain they don't want it. Of course.
6:15 pm
Back into my prep for my plan due in two weeks. Tomorrow is the first day of school here, so I am not sure how long I will get to work this evening. I usually would book an evening client on Mondays, so it's a normal day to work after dinner for me. It's also great to get some extra prep done when I don't have a client to fill the appointment time.
7:37 pm
Close up the computer and back to family time. Check-in where everyone is at for the first day back to school tomorrow. Get out backpacks, get organized for lunches tomorrow, and oh, showers! Time for showers, teenagers. Everyone is organized and set for tomorrow. We set the breakfast table, line up school bags and tidy rooms. All ready.
8:30 pm
Kids grab a snack and then get ready for bed. I am right behind them at 9:10 pm. Greg leaves at 9:15 pm to get Will from work.
Wednesday, September 4th
7:00 am
Wake up, get kids up. Will is up already. Greg is home (again!), so he is on coffee and has breakfast organized. I start my porridge. I eat it almost every morning. Takes a while to cook, but there is coooffeee.
7:20 am
Everyone is at the table, eating breakfast…weird. The first day, I guess. A bit of a scramble to find a few supplies I forgot about last night. They make their lunches; I remind them. "Make your lunch!"
7:50 am
Greg harnesses the dog and gathers all three kids and walks to the bus stop with them. It is maybe 200m away. We call it the pet stop. Our dog, Daisy, loves going. I don't do the pet stop, but Greg does. It's nice for them. They wait for the bus altogether. It's fun when it's -40. No teenagers are driving yet in this house. In November, the oldest can obtain his learners.
7:52 am
I am on the computer and start my day. I have meetings planned. Lots of different things happening and a "get many tasks done" day. I notice there are Slack messages already, quite a few. Julia, our leader, is in Toronto and I know today is Sandi's last day in the office before she heads to Toronto to meet up with Julia for a CPA conference. I decided to post my daily stand-up early so people know where I am and that they can message me if they need me. I answer a few direct messages which helps Sandi out – I know she is slammed today getting ready. There is nothing worse than leaving for a conference and not getting everything done ahead of time.
8:09 am
Greg is back from the bus stop. He took pictures. I stop working and post the first day of school pictures to Facebook and get fully sucked into looking at everyone else's pics.
8:42 am
So this is why I don't open social media in the morning. It's 8:42 am already. Back to this article writing and my first task (more meeting prep for cash flow clients). I have two of them tomorrow. I expect this to take about an hour. I don't have to send anything to the client, so I just make sure my ducks are lined up, and I have a good agenda for each meeting.
9:11 am
Greg is off mountain biking with some friends. They pull up and load bikes. Bye, bye! Just me and the dog. Normal has returned.
10:20 am
Shower and clean up for two meetings in real life coming up. I am meeting Chris, a local accountant I work with frequently, followed by a lunch meeting at a restaurant with the Chair of a board I sit on.
11:00 am
Drive to Chris' office about 1km away. We are meeting about the 2018 year-end for a volunteer organization we both work for. We have put off updates for probably too long. Nice to catch up. I have some things to send him that he needs. I have to find time to do that and remember. I email myself to find time in the calendar sooner or later. I need about an hour. We have a quick check-in on how our respective businesses are going. It is always nice to reach out.
12:00 pm
Meet up for lunch (yay… food!) with some board members. We are looking for new board members and need to go over some applications that came in over the summer months. This women's shelter board I sit on is in session from September to June, and we have the summers off. We usually meet once a month. We have three spots on the board to fill, and it looks like all the applicants are good.
1:12 pm
Back home and the computer is open again. I have some time to spend looking at emails from clients and getting some of those pieces together that Chris needs.
2:00 pm
I jump on a Zoom call with a portfolio manager/investment advisor from CIBC that uses solely ETF's. Kathryn and Sandi are also both on the call. It is a great opportunity to work with advisors across Canada and learn what they do through Zoom. I think this advisor is a particularly good fit for one of my clients, so even though I know what she does, I have more questions, so I am keen to be on the call.
2:43 pm
Make notes from the Zoom call and have some water and find some chocolate.
3:00 pm
Phone call with an ongoing client. We meet for an hour every other month. She has been my client for over six years now. I have been with her pre-retirement, transitioning into retirement and now one and a half years into retirement. She is a single lady and has had much growth around how to use her money as a tool to get what she wants. She has travelled overseas during our time together, and she has helped her daughter with post-secondary schooling abroad. She has paid back debt and saved an emergency fund. She has a plan for her investments, and she understands her pensions. Today the main topic is her two cats. They are getting older and costing her a lot, A LOT of money. We need to decide how much she is comfortable continuing to spend, where the money will come from if she goes over budget and going forward, a plan for when they pass away.
4:11 pm
Kids are home from the first day of school. I close up my computer. I am supposed to have a meeting at my office tonight, but they have cancelled, so I enjoy the evening. Greg is making dinner tonight. Ham, eggs and potatoes are on the menu. He and Will head out for a bike ride with a local meet-up group and Owen, Marina and I walk Daisy. We are all zonked after the first day of school. Even me!
Thursday, September 5th
7:00 am
Everyone is up again (the train has pulled out of the station and there is no getting off until the end of June, we better get used to this). Kids weirdly wake up at a reasonable time and get ready for school. Greg gets everyone out the door and down to the pet stop.
8:03 pm
No coffee left, bummer. It is a planning/focus day, so I am at my computer all day today. I have to get back into the financial plan presentation prep I started earlier this week. I have a two-and-a-half-hour block slated. I am doing the write-up part, so those sections are pretty fun. They are the words around the recommendations that all the charts and graphs show. It is the part where we build the client's story. I enjoy this part. There is always a bright light to shine on everyone's money stories, and I love creating that part of the story. Even if the numbers show clients don't quite meet their goals, it is excellent they have started the planning process so they can develop a game-plan to either change their expectations or create more wealth. There are always bright spots. I love pointing them out and shining that light. It is the most fun part of my job. You can't change what you don't know. A financial plan is the ground work, the starting point, your line in the sand. As a planner, I get to help people see more possibilities if that is not where they want to be or stay.
10:22 am
Jiveney takes care of my calendar for me. She has scheduled a BREAK! Okay, I will take the dog for a quick walk.
10:45 am
Drive to the dentist for a check-up. I booked this. It's an appointment on my planning/focus day. I need to stop doing this.
11:35 am
Back home and grabbing lunch. Yum.
12:00 noon
Prep for a Discovery meeting next week. This is a client of Kathryn's that has been doing a great job. Kathryn has worked with her for over a year, keeping her accountable, setting up cash flow systems in her business so that her personal life runs smoothly. She now needs to look down the road, long-term. She needs the motivation to stay on track. She needs to know if her savings are enough for her to retire or become financially independent and when that picture will come to fruition for her. I check over Kathryn's files in our cloud-based file storing system. It is great to share information. It makes it so much easier for clients not having to repeat information they have already spent time giving us.
1:12 pm
Check some emails and tasks. I keep all my tasks in Zendesk. I need to do a plan update for a client. We had our presentation last week, but I have a few notes to follow-up on. They want to know how much their daughter should be contributing to her education and need ideas around what items she should pay for. There is also their Action List. They have some homework pieces to do before we see each other in six months again, and I want to make sure those are correctly articulated. There was a hefty expense that came to light at our meeting last week that wasn't part of the original plan so I want to look at how they should pay for that. I clean up those pieces for them and send off an email with the details.
2:28 pm
I have a meeting today at 4 pm with an annual client. Note another meeting on a planning day. This client is a local client from here so I made this appointment, not Jiveney. If I let Jiveney do her job and book this appointment, I could have finished up that plan presentation prep I need to do. My client sees me annually to help her with her retirement income planning. She has two years of work left before she becomes financially independent. Today we are reviewing where she is at and how her funds are lasting to-date. She has just sold her house, so we want to make sure she is on track.
3:00 pm
Get ready for my meeting. Grab my documents, briefcase, office keys and put on nicer clothes.
3:17 pm
Drive to the office for my meeting. It's about a three minute drive.
5:20 pm
Meeting over, drive home. Done for the night.
Friday, September 6
5:50 am
Greg is up, off to work. He starts his run of five shifts today. Three day shifts and two nights shifts. I am up to do some reading while I wait for 7 am. I am on duty today so I have to make sure the kids are out the door on time, get anyone to work after school, and make sure everyone is fed! At least dinner is planned. We always make pizza on Fridays and watch a movie on the couch together.
7:00 am
I go wake up the kids. Last day of school for the week. Morning runs well, and they are out the door at 7:55 am. Daisy, the dog has to stay inside. I am heading into the shower to get ready for the day.
8:14 am
Fridays are meeting and task days. There is a mix of things that happen on Fridays. It is a great day to look at tasks that are not done from the week. I move any blocks I didn't get done during the week to Friday. It is a good day for personal appointments (like dentist appointment I should have booked here instead of Thursday – next time!). I also tend to feel tired on Fridays, so I like to get to the gym for the noon class. I usually see the same women friends on Fridays at lunch hour, so I like the interaction. I start the computer and open up a client file for a meeting this morning, a foundation meeting at 10:00 am. This meeting will verify and confirm the information she sent in. It will be helpful to spend some more time with her as our Discovery call feels like it was a long time ago and I am excited to hear if there are any updates. Everything is in order.
8:47 am
Check emails and Slacks. I need to finish some notes from my last meeting yesterday that I didn't do right away because it was late in the day. The meeting notes link is easy to find in my calendar appointment (thanks Jiveney!) I send my client an update with her Action Sheet and wish her luck on her move. I email Jiveney to book and confirm her next meeting that I tentatively booked face-to-face with her yesterday.
9:45 am
Post my daily stand up on Slack and check emails again. Emails are quiet, but lots to read on Slack. Sandi and Julia are at the conference, and Sandi posted a picture of Julia speaking. She looks GREAT! We all congratulate her. It has felt quiet at the office. I private message Kathryn, I have a question about how she calculates annual expenses. We go back and forth a bit, and it helps me out a lot. I like having the same process for things in Spring. I am glad I spent some time and worked that out.
9:59 am
Time to call my client. No Zoom is set up in the calendar. So I phone the number Jiveney has in my appointment booking on my calendar. All of our primary documents are in Google Drive so the client is logged on and can open the same sheets as we speak.
11:34 am
Long call, but lots of significant, great updates! I have a lot of information to compile. I would like to see my friends at lunch, though. I don't want to do this WOD as it involves the barbell. Oh well. I will ignore that. Maybe the coach will let me use dumbbells if I beg.
12:00 pm
Workout at the gym and catch up with some ladies!
1:15 pm
Back home. I must eat.
1:31 pm
My time block says work on Financial Plan, but I am keen to start working on my next week and get it planned. First, I open my calendar. Any free space? Then I open my task list in Zendesk to see if anything is outstanding. I do have a task for a planning client I need an hour for. I find that for next week and book it in that free space. That is all for tasks (lucky!). I open Slack and add my daily stand-ups to my page. Then I go to our Spring Positive Focus sheet to add in what I learned this week (1. Not to book my appointments and if I do, don't book them on planning/focus days). I add my three big goals for next week. I can see what they are as I just typed out my to-do's in Slack. I move to our planning agenda. It isn't done yet, but that is okay. I spend some time updating the Planning meeting spreadsheet. It is a good road map that states where each client is at.
2:43 pm
Feeling tired, but I want to get my tasks done. I think I will clean up the kitchen instead and get the pizza dough started.
4:30 pm
I get all the pizzas done. Kids walk in, and we start our evening a little early. Will and Marina choose "School of Rock" for a movie, and we all grab our pops. Pizza is warm and yummy.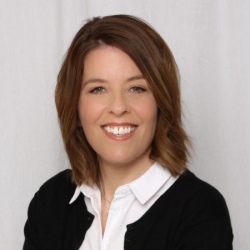 Latest posts by Karen Richardson
(see all)