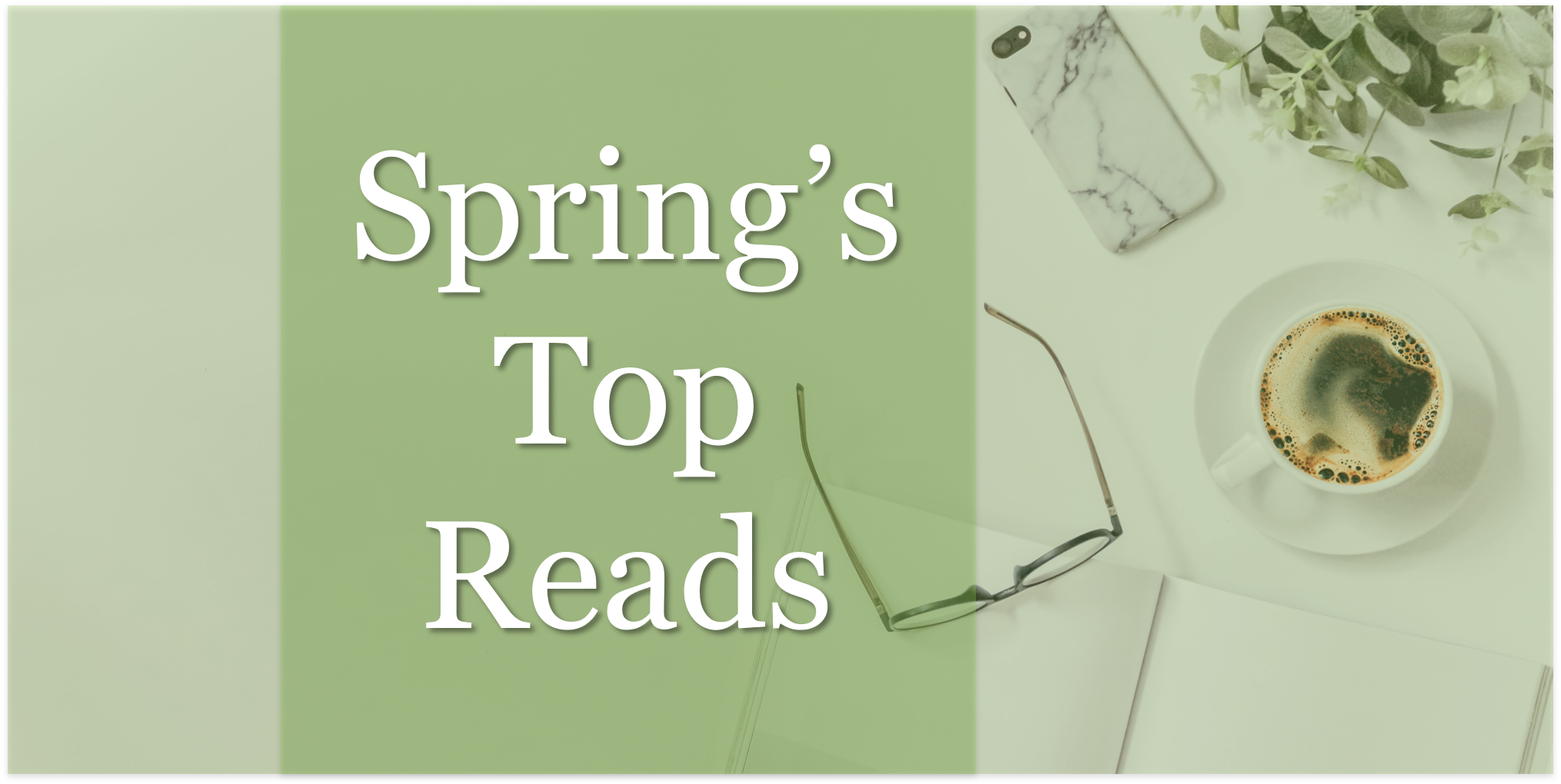 Sandi's Great Reads have been legendary here at Spring. We always look forward to her list of reads – she's such a great curator. She's also reading a lot more than the rest of us, so we thought we'd start giving her a hand. Going forward, the rest of the planning team will be taking turns with Sandi to share the great reads that each one of us have come across. We hope to be able to provide you with an even wider net of interesting, useful information, through the unique lens of each of our planners. This month, Kathryn, our Director of Cash Flow Strategies, is curating Spring's Great Reads and they're all about intentional money management.
Intentional Money Management
With the world as it has been over the past few months I have taken to watching videos, listening to podcasts and reading non-fiction to escape the daily statistics and tolls.
Money plays a significant role in our lives and this has been even more pronounced in the past few months. Being intentional with your money and using it to support your values is just as important now as it ever was, so it's no surprise that my list is full of intentional money management tips.
Below you'll find:
If you're ready for a bit more after the top three, there is a great collection below the top three intentional money management reads, including
We hope you'll enjoy reading, listening, and watching!
From Rich and Regular
Good food and money conversations – sign me up! Julien and Kiersten show us what it can look like to have an open and honest conversation about money. Discomfort and all.
Watch the video here.
From Your Financial Launchpad – Dorris Belland
"It doesn't matter if you have a perfect-for-you financial system. If your mindset isn't onside, you are fighting an uphill battle. Think Sisyphus here – big rock, steep hill, one screwed guy (that is, if mythological characters can be referred to as guys)."
Read the full article here.
From Preet Banerjee
Preet has been consistently providing updates on Canada's Economic Response plan to help Canadians navigate the frequent updates and changes to COVID benefits.
Watch the video here.

You can read this month's entire list below, and browse through past lists here.
The value of not having a plan for life | Brendan Miller
"Planning is useful when a problem needs a solution that is well-understood, but building something like a career is a different kind of problem that is harder to plan for."
Unlocking Us | Brene Brown with Ibram X. Kendi
"I'm talking with professor Ibram X. Kendi, New York Times bestselling author of How to Be an Antiracist and the Director of the Antiracist Research and Policy Center at American University. We talk about racial disparities, policy, and equality, but we really focus on How to Be an Antiracist, which is a groundbreaking approach to understanding uprooting racism and inequality in our society and in ourselves."
Needed now: A feminist recovery plan | Katherine Scott
"The May jobs report hints at a recovery in employment around the corner but, as feared, job creation among women is lagging men by more than two to one. Women accounted for only 29% of the recovery in COVID-19-related job losses and absences posted in May.

"The boost in female employment (+1.1% or 84,000) is modest to say the least. Taking these gains into account, cumulative job loss among women now stands 1.5 million and another 1.2 million have lost the majority of their hours of employment. These losses are impacting more than one-quarter of all female workers (28%) in industrial sectors across the economy."
A Journey of Transformation Leads to a Vision of "Fundraising From the Heart" | Holly Hall
"Lynne Twist is not your typical fundraiser. With 40 years of experience under her belt, she seldom, if ever, talks about techniques and tips associated with major gifts, capital campaigns or planned giving.

"Instead, Twist's focus is on teaching people, including fellow fundraisers, how to develop a more authentic relationship with their own and others' money—to use money for the greatest possible good."
2 Ways for Visual Learners to Draw up their 2020 plan | Chris Enns
From the archives, but a good read right now.
"I'm a pretty visual person, so as much as I like scrawling a list onto a yellow legal pad there's something about seeing things actually drawn out that can make them much clearer in my mind.

"Now, let me get something straight… I'm not a good drawer. I am an enthusiastic drawer… but not a good one. But luckily that's not a prerequisite for either of these exercises.

"The goal is to get pen to paper and think through the next 12-month period of your life."

Latest posts by Kathryn Mandelcorn
(see all)