NOTE: The calculator has outgrown its old Google sheet and is now at autoinvest.ca. As of 2017, Sandi no longer manages the site, and the new managers have chosen to set up referral fee arrangements with some providers
Welcome to the investment fee calculator, built to compare the cost of investing across Canada with online portfolio management companies like Nest Wealth, Justwealth, WealthBar, Steadyhand, Wealthsimple, BMO SmartFolio, Invisor, ModernAdvisor, and Portfolio IQ. (For more about why on earth you'd do so, read this.)
The intention of this calculator is not to declare "a winner" based on cost alone, so please avoid the temptation of signing up with the cheapest company and calling it a day. No calculator can replace the informed, critical thinking that only you can apply to the various offers, so carefully consider each company's business model, care for consumers, dedication to low costs, and transparency in portfolio construction and investment philosophy. The updated calculator also lets you compare the cost of investing over time as well, assuming a constant gross rate of return. Be sure to scroll down to the graph and see not just a snapshot of your fees today, but their effect on your portfolio balance after ten years.
DISCLOSURE: Some of these companies pay a fee or offer a discount on account fees when you sign up through another client's referral link. I do not receive compensation of any kind if you decide to open an account.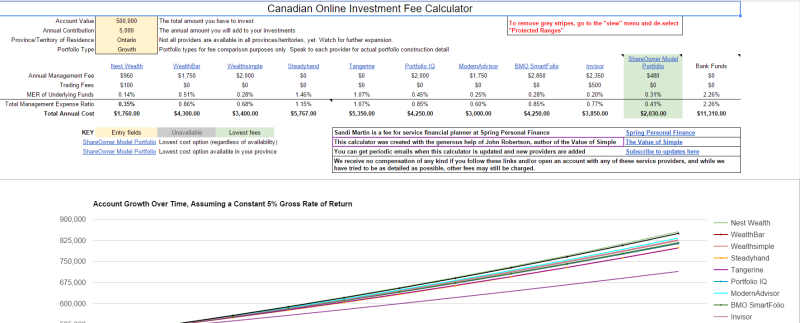 I have to thank John Roberston, author of The Value of Simple for his invaluable assistance with the vagaries of conditional formatting and "=if" formulas, as well as Randy Cass of NestWealth, Andrew Kirkland and James Gauthier of Justwealth, Tea Nicola of WealthBar, Michael Katchen of Wealthsimple, Bruce Seago of ShareOwner, Pramod Udiaver of Invisor, Navid Boostani of ModernAdvisor, and David Toyne of Steadyhand for their remarkably candid responses to my very wordy emails and many, many questions.
I want to hear your feedback if you are a client of these companies (or eventually decided against it). Please share your experience in the survey form below.
What are other users saying about these companies after using the investment fee calculator as part of the process?
The process to get everything set up was relatively simple but there were many steps to go through. The wait for the transfer from my previous online account to Wealth Simple was about 3 weeks. I do find that I check the iPhone App pretty regularly, it is simple and gives the information that I want to see. I don't really do anything with that information since the plan is the plan and my intent is to stick with it but I check it none the less!
---

Randy Cass from Nest Wealth has been very professional and very responsive. It took quite a while to complete the transfers but that was really a function of the banks and not Nest Wealth. I liked the way they designed the customized portfolio and the web site is simple and functional.
---

I don't think any of them provided any meaningful value to me over choosing a DIY model and possible advice from a fee based advisor. I'd rather have control over my decisions and all the robo advisors seem to have overly complicated model portfolio's. I like the Canadian couch potato recommended ETF portfolio better.
---

The things that attracted me to Steadyhand were their clear reporting (including total costs, comparison to benchmarks etc), the experience of the direct interaction with their staff (honest, helpful and encouraging), costs (not the lowest, but close), and approach to investment (patient, focused, and active, but low turnover). I also like the fact that the only way to make trades in through phoning and talking to someone as it really forces conversations on what is best and prevents emotional decisions. I think their fee structure makes a lot of sense and am even looking forward to soon having a further reduction based on the time I have invested with them. The only thing that [some] other companies can provide that Steadyhand doesn't is financial planning. They will discuss whatever your circumstance is and give some advice, but they do not create a full financial plan.
Latest posts by Sandi Martin
(see all)